This post may contain affiliate links, which means I may receive a small commission, at no cost to you. A huge amount of time is spent on research to make sure you have the best information, tips & strategies here. Hope you don't mind a little reciprocation in return. Thanks!
Most of us have heard that Google is changing its algorithms. That doesn't mean it only happens once or twice. Well, in fact, Google has changed it's algorithms 3,200 times in twelve months.  3,200 times!
There's a lot of misinformation out there regarding SEO optimization techniques. It stands to reason that the Google of today is very different than the one just two or three years ago. Are you falling for outdated information? Rather than rely on what some unknown person is telling you, me in included, let's get right from Google itself.
Google does provide some SEO optimization guidelines for bloggers.  Most of it focuses on building quality content. Let's take a look at Googles suggestions.
What are some factors to achieving page one Google rankings?  Here are some of most important factors:
Have original and well-written content. It's all about high quality, well researched and detailed contents. According to stats, the average word count for the top 10 results is roughly around 1500+ words. 
Pay attention to your SEO and take care of the following:
– Include your Keyword in the Title Tag, Meta Description, H1 Tag, H2 Tag. 
– Have your keyword placed in the first and last 100 words.
– Include Multiple LSI Keywords.
– Have your LSI keywords in H2 and H3 tags .
– Include relevant and lots of images with correct alt tag.
Google's Quality Content Tips
So, thankfully, Google provides a series of questions that bloggers should consider when crafting new content. Let's take a look at each of these related to content.
Does the content provide original information, reporting, research or analysis? 
Google is constantly looking for new, fresh, quality content.  So focus on new topics instead of recycled content that's been written about a hundred different times.
Does the content provide a substantial, complete or comprehensive description of the topic? 
Quality content is thorough. Therefore, posts that meet a user's search query more completely will rank higher.  Meaty content requires research to make sure you're covering the topic more thoroughly. It may take longer to write, but Google will reward your efforts.
Does the content provide insightful analysis or interesting information that is beyond obvious? 
Are you willing to provide far more information than your competition?  Go above and beyond, take a different view, offer out-of-the-box solutions and analysis.
When ranking for a keyword, take the time to check out the top ten sites on page 1 of SERPS first. Make sure your content is better and more thorough. Providing superior content that's above and beyond what's already there, gives Google a reason to place you on top.
If the content draws on other sources, does it avoid simply copying or rewriting those sources and instead provide substantial additional value and originality?
If you're taking from different sources, make sure the bulk of the content is your own and don't forget to site the sources (just like you did in school term papers, remember?). Don't just copy and paste big chunks of text and then add a closing paragraph.  Draw your own conclusions, site information that backs it up. 
Does the headline and/or page title provide a descriptive, helpful summary of the content? 
Did you know that out of ten people who read your headline, only two on average will click to read the rest? There's lots of information out there that focuses on crafting intriguing headlines that build on emotions such as curiosity.
Since many people will only scan titles, try to place your keywords at the start of the title. Also, keep in mind that anything longer than 65 characters will get cut off.
Does the headline and/or page title avoid being exaggerating or shocking in nature? 
Google is keeping track of how quickly people are bouncing from your website back to the search engine.  If they're on your site for 10 secs or less, Google will likely take that to mean your content wasn't up to par despite your headline.  Avoid using Clickbait tactics as this will imminently backfire once Google puts your site on a Clickbait blacklist. 
For those of you who may not be familiar with the term Clickbait, it's just like a bait and switch scheme. Wikipedia defines it as, "web content that is aimed at generating online advertising revenue, especially at the expense of quality or accuracy, relying on sensationalist headlines to attract click-through and to encourage forwarding of the material over the online social networks".
In a nutshell, make sure your title clearly represents the substance of your content and delivers exactly what it implies and keep it within 65 characters.
Is this the sort of page you'd want to bookmark, share with a friend, or recommend?
Here's some great advice. Make your content and by extension your site, user-focused. Focus on their experience above all else. Just like Google does. Give Google what it wants, good user experience and unique content that really delivers each time. 
When writing content, focus on the reader's expectations. Don't just write for search engines, write for humans first. Partner up with Google and focus on the end-user and Google will eventually recognize that and reward your efforts accordingly. 
Click To Tweet
Make it easy to share.
Google watches how many visitors you generate, how long they are staying on your site and how often your content is shared.
Rather than go through pages worth of questions, I've gone through and listed the following best practices Google is looking for on your site.
Free from spelling or grammatical errors.
Make sure your content is well crafted and polished (custom graphics, podcasts, videos & images) and the user experience is great.
Make sure you provide sufficient information to the user. Google wants your pages to fully answer users questions all in one place. Don't force the user to link out to a bunch of other sites for the answer.
Avoid too many ads that will distract from or interfere with the main content.
Make sure your content is mobile friendly and displays well on other devices.
Improve the time in which your page takes to load. If it's too slow it will harm your rankings. Internet users are very impatient.
How Slow Is Too Slow?
Anything under 9 seconds is ideal. As the chart below shows, at 9.6 seconds, your bounce rate starts to climb. Bounce rate is how quickly (or impatient) users will click the back button rather than wait for your page to load. The longer the wait, the higher the number of users will pass on your page.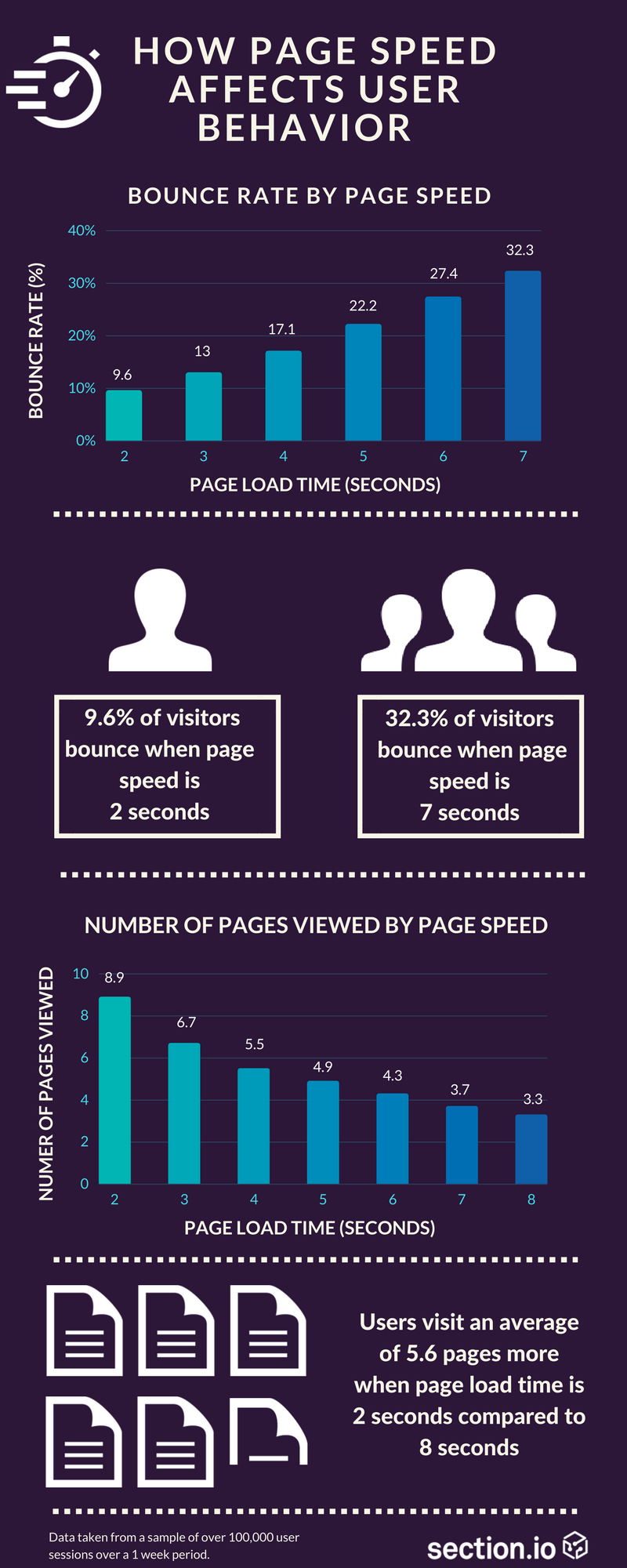 There is a free online site that will test your page and give you a report as to its load time. I tested one of my site pages at random and got a really good load time of 95 milliseconds.
Understanding Google's Language
When searching online, how does Google know if you're happy with the results? It looks for clues based on your activity such as: 
Click-through-rates.
How many users hit the back button to return to Google and click on the next listings?
How much time does a user spend on your page/site?
How often does a user share your content?
How quickly your page loads vs bounce rates?
Using Links That Boost Your Rankings
Did you know that when used deliberately and wisely, placing links within your content can have a big effect on your SERP ranking? I typically use a 1:1 ratio. That is, for every outbound link to an authority site, I'll also include one internal link to a related blog on my site.
When researching your topic, look for and take note of authority sites you can include as links within your content. I like to do this using images such as the one below.
Linking to high authority sites is an effective method to building your backlinks. Including links to these sites from within your content will give your blog a boost in Google's eyes.
Don't Ignore Your Metas
Meta descriptions are placed under a title in search engine searches. It's a good opportunity to carefully place your keywords again and tell the user about the topic. Try to create enough curiosity to here to get them to click through. Google limits your meta description to 160 characters maximum.
Wrapping It Up
I've given you some real solid techniques you should use for each of your new blog posts. Used consistently over time, you will start to climb up the ranks of Google and other SERPs.
Don't just read about it, actually put it into action! Better yet, bookmark this page and review it with every new content you write.
Your Two Cents
Feel free to leave your questions or feedback below. I'd love to hear about your own experiences, struggles, and successes!
Find Me On Pinterest
Let's meet up on Pinterest. I've made it super easy for you, too. Just click on the image below to be taken one of my boards devoted to growing an online business See you there!